Millennials Are Killing Antiques!
A downloadable game for Windows and macOS
This is a game where you play as a piece of toast, smashing things! Fight the establishment and assert your modern millennial sensibilities by destroying family heirlooms while you try to rack up the highest monetary damage value possible within the time limit. Claim the insurance check so you can finally afford the down payment on a BRAND NEW SHED!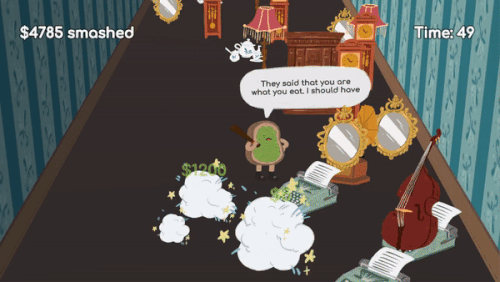 TEAM CREDITS
Deborah Ho - Artist
Hugh Kennedy - Gameplay Programmer
Kai Lynk - Concept Contributor
Luke Ashley - Composer, "Millennial Roadshow"
Matthew Deline - Producer/Designer
Rune Finlayson - UX Programmer
EXTERNAL AUDIO CREDITS
AbuseArt, "Smashing an acoustic guitar", (CC0 1.0), https://freesound.org/people/AbuseArt/sounds/201111/
ADnova, "happy cave", (CC0 1.0), https://freesound.org/people/ADnova/sounds/435531/
alpinasaundi, "found can crush 3.wav", (CC0 1.0), https://freesound.org/people/apinasaundi/sounds/405646/
cydon, "Explosion_001.mp3", (CC BY-NC 3.0), https://freesound.org/people/cydon/sounds/268557/
InspectorJ, "Crunching, Wooden Fence, B.wav", (CC BY 3.0), https://freesound.org/people/InspectorJ/sounds/352206/
"Cuckoo Clock, Breaking Down, A.wav", (CC BY 3.0), https://freesound.org/people/InspectorJ/sounds/413410/
"Power Up, Bright, A.wav", (CC BY 3.0), https://freesound.org/people/InspectorJ/sounds/411460/
"Smashing, Wooden Fence, A.wav", (CC BY 3.0), https://freesound.org/people/InspectorJ/sounds/352205/
"Glass Smash, Bottle, E.wav", (CC BY 3.0), https://freesound.org/people/InspectorJ/sounds/344272/
"Glass Smash, Bottle, C.wav", (CC BY 3.0), https://freesound.org/people/InspectorJ/sounds/344266/
Iwiploppenisse, "Explosion", (CC BY 3.0), https://freesound.org/people/Iwiploppenisse/sounds/156031/
Kenney Vleugels, "RPG Audio", (CC0 1.0), https://kenney.nl/assets/rpg-audio
kiddpark, "Cash Register", (CC BY 3.0), https://freesound.org/people/kiddpark/sounds/201159/
Mativve, "Happy sandbox", (CC0 1.0), https://freesound.org/people/Mativve/sounds/416778/
thefsoundman, "Punch_02.wav", (CC0 1.0), https://freesound.org/people/thefsoundman/sounds/118513/
"Windshield_Hit_02.wav", (CC0 1.0), https://freesound.org/people/thefsoundman/sounds/118515/
EXTERNAL IMAGE CREDITS
Parliament@Work, "Hockey, early 1990s", (CC BY-SA 3.0), https://en.wikipedia.org/wiki/Joe_Hockey#/media/File:Joe_Hockey_MP.jpg
Install instructions
Extract the contents of maka.zip, and run ggj2019.exe